Freedom Essay 2015 Contest
"What Freedom Means to Me" Essay Selected in Local Contest
---
Skip image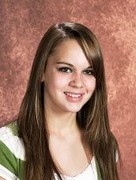 497dfd16e1e3d
---
The Goodland Elks Lodge sponsored a local essay contest for junior high students. Students were asked to write on the topic "What Freedom Means to Me" as an assignment in Mrs. Gibson's English class. Clarice Neitzel, St. Francis 8th grade student, wrote an essay that was selected as one of the top three essays in the local contest. The top three essays will be sent on for district judging. The district contest winners will receive U.S. savings bonds. Congratulations, Clarice!
Clarice's essay can be found below:
"What Does Freedom Mean to Me?"
Have you ever thought about the meaning of freedom? To me, freedom means to be able to learn from my mistakes. If I didn't have freedom, I would have to do what the top authorities always tell me to do. I don't have any room for mistakes so it would be harder to learn about life.
Freedom also means having the time to do things right. No freedom, in this case, would mean that I wouldn't have any time for fantastic, clever thoughts. I would have to do things extremely precise and quick. When I don't have freedom, I am under pressure constantly. While I am under so much pressure, it makes it a more stressful world to live in.
One last example of what freedom means to me is being able to do many things without being forced into doing anything. No freedom means that I might have to enlist in the army reluctantly. I might even be forced to quarter troops and watch them take over my home! If I didn't have freedom, I might have to get married at a young age and start a family which I have no intention of doing at my age. My life minus freedom would equal being controlled with everything. When I don't have freedom I can't do anything except for what the strict laws tell me to do.
In summary, we are lucky to be in a society of freedom. Just remember, we are the land of the free and the home of the brave!
Clarice Neitzel
8th Grade
St. Francis Junior High
Goodland Elks
Alyssa Christoffers, Moorhead MN
Miles Hofer, Huron SD
Grand Prize
Team entry (2 person) into the Wounded Warriors Ice Tournament, Woodland Resort Devils Lake ND January 15/16. Lodging included at Woodland Resort. (Gear provided if needed) Publication in Dakota Country Magazine, and local newspapers. An opportunity to read your submission on American Heroes Outdoors TV.
Top 5 submissions will receive an American Heroes Outdoors T-Shirt and Decal
All participants will receive an American Heroes Outdoors Decal
General Guidelines
Freedom is different for everyone. Tell us what it means to you and let us know why you have the freedom you do today.
https://www.facebook.com/AmericanHeroesOutdoors
Recently American Heroes Outdoors TV along with Woodland Resort and Dakota Country Magazine sponsored a writing contest for youth. The writers only guideline was to talk about what freedom means to them.
All too often freedom is overcomplicated with analysis and abused as an excuse for one's actions. By limiting the age group for the contest we were able to bring freedom back to the basics.
The raw wisdom and honesty in the essays made reading them very special… which in turn made selecting a winner difficult. In our eyes every single submission was worthy of a blue ribbon and we were proud to read their thoughts. However, for the sake of the contest we whittled it down to two and from there we decided to choose two winners.
Both Alyssa's and Miles' entries talked about freedom and what the word itself meant. They both talked about specific examples in their own lives but one thing remained the same, just as it had in all the other entries: Writers talked about the price paid for freedom. They talked about Heroes who have sacrificed for our freedom.
Someone once defined a Hero as, "An ordinary person facing extraordinary circumstances and acting with courage, honor, and self-sacrifice." They couldn't be more right, and as we read essay after essay we realized that our writers nailed it. No matter what freedom means to each of us there are people who will do anything necessary to secure that freedom. This selflessness is why we are the greatest nation in the world.
As Veterans Day draws near we would like to offer these essays as a way of saying thank you to so many men and women who have sacrificed for freedom.
American Heroes Outdoors TV is a Television series operated by a non-profit company that showcases veterans, police, first responders and veterans organizations. It focuses on their stories and show viewers the amazing aspects of the great outdoors.
Check us out at americanheroesoutdoors.com
What Freedom Means to my Family
by Miles Hofer, 9
Huron, SD
Parents, Becky and Toby Hofer
Freedom means many things to my family.
My dad, my mom and I all have different ideas of freedom. Dad believes freedom is to snowmobile and to hunt. Freedom means you can go to different churches. He says many families don't get to do that in other countries.
My mom says freedom means that no matter where you come from you have a chance to make your own future. Mom thinks freedom means opportunity. Mom thinks that God gave everybody free will.
I say freedom is an opportunity that most countries don't have yet, but I think about those soldiers as heroes. Freedom of speech and freedom of protest are in America's laws. Not every country has that.
Freedom means many things to my family. I am happy because I have freedom. I am thankful to are troops for protecting are freedom. America is land the free because of the brave.
Freedom
by Alyssa Chirstoffers, 13
Moorhead, MN
Mom is Collette Christoffers
Freedom to me means pride. We take pride in what we fight for. We are proud in our nation. Our flag symbolizes our country and we are proud in all of the wars and conflicts we have overcome throughout the years.
The song "I'm Proud to be an American" by Lee Greenwood says in its lyrics " 'cause the flag still stands for freedom".
Our nation's flag reminds me of the people who fought and are fighting for our country and our freedom. I remember singing this song in elementary school, and when the song hit the chorus, all the kids would belt it out. I felt pride in those moments.
I can't imagine what it would feel like to not be free. I've lived in the United States all of my life and I don't realize how good my life is. When I hear about other country's conflict and what they are going through, I'm glad I live in the United States and that I have the rights I do.
I'm proud of our nation and I'm proud of the soldiers who fight and fought for our country. America is a great and awesome nation, and I'm proud to be part of it. We should all be proud in our nation and we should be proud to be an American.